Beskrivelse
Tekno ET410 1/10th 4WD Competition Electric Truggy Kit
At Tekno RC, we've always strived to think outside the box. Rules and standards are great and all, but when it comes to maximum fun and performance, sometimes you just have to do your own thing. For example, it's only been about 10 years since we pioneered the 1/8th electric buggy class. From there we released the first purpose-built 1/8th electric buggy kit in 2012, and that class is now one of the most popular in the world.
This time though, we didn't throw out the rulebook entirely as the 1/10th 4wd truck class has been 'on the books' for quite some time. Knowing that, we saw an opportunity to introduce a new vehicle that checks all of the right boxes – performance, innovation, durability, and most of all, fun!
With advances in battery and motor technology, as well as design evolution and material properties, it was only a matter of time until a truly viable 1/10th 4wd truck entered the market. We are happy to answer the call and we'll say without hesitation that this new truck is about the most fun you can have with an RC car.
The ET410 excels on every track surface whether it be clay, carpet, dirt, indoor, or outdoor. That's not a huge surprise since it's based on the wildly successful EB410 platform. We designed new suspension arms, shock towers, rear shocks, body mounts, ET48.3 inspired truggy body, and driveline components to push the ET410 out to 1/10th 2wd/4wd truck specs.
All of the innovations from the EB410 buggy are present on the ET410. From the weight-forward chassis layout and superior differential design, to the reverse bellcrank steering system and 13mm big bore shocks, you'll be immediately familiar with the truck out of the box. This also means that most of the aftermarket parts for the EB410 will be direct replacement options for the ET410.
During testing we found a variety of motors that work well to power the ET410 from standard 2-pole offerings (5.5-10.5T) to 4-pole 540-size SCT motors (4000-5000kv). Don't be afraid to put tons of power through the ET410 as a newly designed 32 pitch spur gear and thicker driveshafts are more than up to the task. And yes, it's fully capable of pulling wheelies if you like messing around in the backyard or off the track.
In addition to standard 2.2" truck wheels and tires (AE offset), we thought it necessary to support SCT wheels and tires (Slash offset) as a bolt-on option. So there's a good chance you already have everything you need in your RC toolbox to get going.
If you already own an EB410, you'll be happy to know that the parts are 95% compatible with the ET410. This means you won't need to stock up on a completely new set of spare parts and all of the routine maintenance you've become familiar with will apply to the ET410. So if you're looking for a 'new' class to run or just want to have a good time with an awesome RC vehicle, the ET410 will deliver.
ET410 Key Features:
95% parts compatibility with the EB410 4WD 1/10th scale buggy.
Updated 3mm 7075 CNC chassis and revised A and B hinge pin braces.
13mm hard anodized threaded shocks with locking spring perches.
New 32 pitch spur gear for ultimate durability
3.5mm shock shafts with revised dual guide x-ring cartridge.
7075 CNC machined adjustable hinge pin brace system.
Three high volume fluid-filled adjustable differentials.
Lightweight 7075 tapered center driveshafts.
Quick access to differentials and maintenance friendly layout.
Captured CVA front and rear driveshafts with heavy duty 6mm stub axles.
Fully ball raced reverse bellcrank steering system.
Uses 1/10th AE Offset Stadium Truck or Traxxas Slash Short Course offset wheels.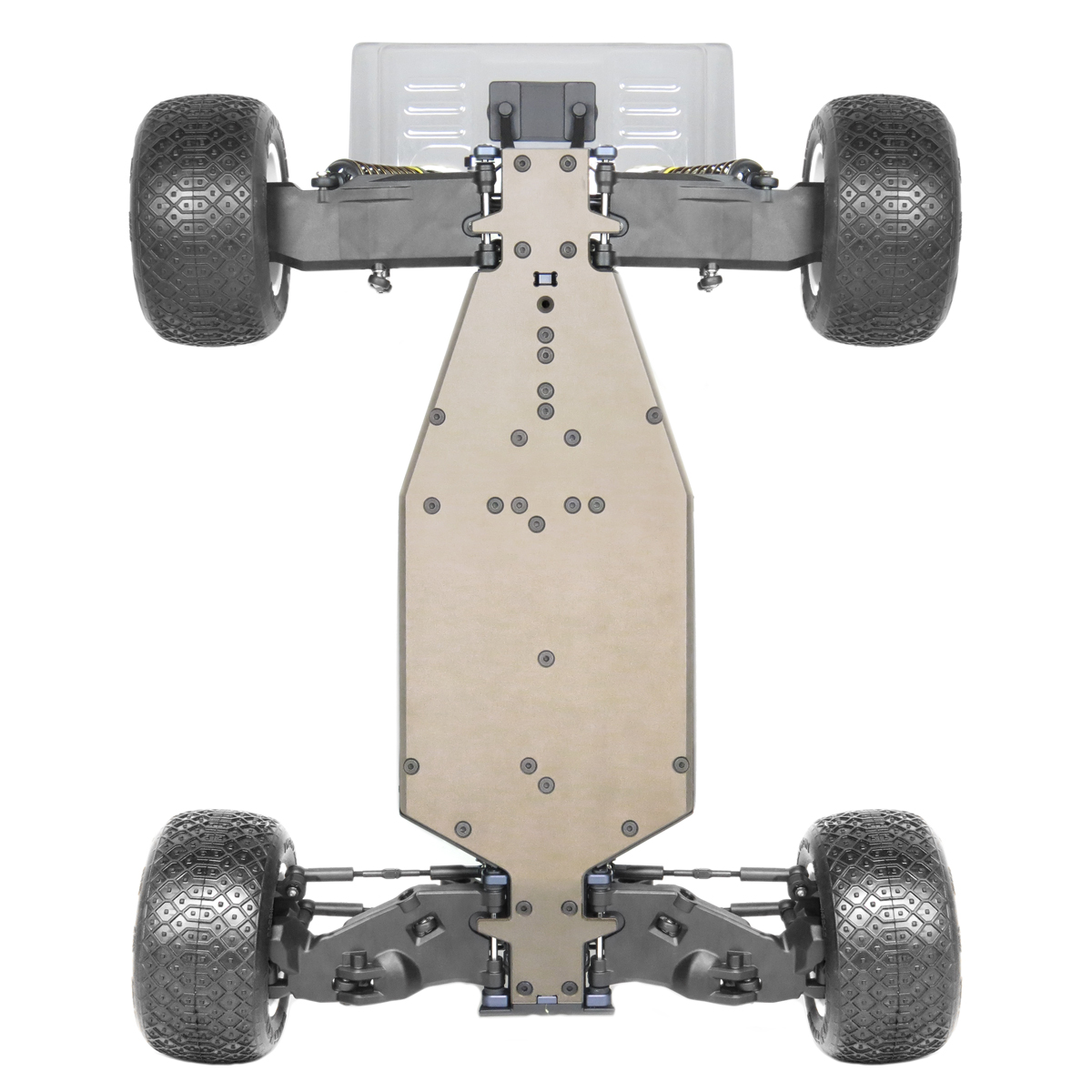 Chassis
Modern 1/10th scale 4WD Truggy based on the popular EB410 Buggy.
Innovative weight forward layout with 1/10th scale rear wing.
New 3mm CNC 7075 aluminum hard anodized lightened chassis with improved wear characteristics.
Low COG; Electronics and components sunken into chassis.
Integrated battery wire guides.
Ample room for the most popular electronics.
Popular shorty pack configuration. Better balanced and lighter weight.
Easy access battery for quick removal and replacement.
Adjustable chassis brace system for fine tuning rear flex.
Differentials and Drivetrain
Durable 53t 32 pitch composite spur gear.
Easy access differentials.
Three oversized fluid-filled adjustable lightweight diffs.
Lightened outdrives and diff couplers used throughout.
Tapered aluminum center driveshafts.
Angled rear gearbox with large bearings.
Straight center driveline for maximum efficiency and minimal wear.
High strength metal ring, pinion, and internal diff gears.
CVA drive shafts with bearing captured pins.
Oversized 6mm stub axles with 5mm aluminum nylock wheel nuts.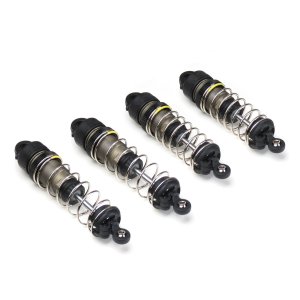 Shocks
13mm big bore shocks with new dual internal shock guides.
Low COG with compact tower and shock design.
Super durable 10mm front and 8mm rear composite shock towers.
Flat/flat piston design (Front – 2 x 1.7 mm + 4 x 0.8 mm, Rear – 2 x 1.8 mm + 4 x 0.8 mm).
Fully adjustable long travel suspension geometry maximizes stability and traction while providing superior cornering and on-power steering.
Strong 3.5mm polished steel shock shafts.
CNC threaded shock bodies and adjustment nuts.
Composite emulsion shock caps.
Clamping spring perches.
Double X-Ring o-rings to provide smooth and consistent damping.
Optional springs and sway bars are available.
Suspension and Steering
Compact reverse bellcrank system.
Bearing supported bellcranks and Ackermann plate.
Adjustable Ackermann and bump-steer (bump in, zero bump, bump out).
Adjustable steering stops for precise steering travel settings.
Adjustable front arm sweep and angle to make the truggy more stable (swept forward), or aggressive (swept back).
Captured outer front and rear hinge pins.
Front gullwing arms lowering COG.
Adjustable CNC 7075 hinge pin braces.
Updated A and B hinge pin braces to be used with the updated chassis.
Long rear sway bar for improved consistency.
3mm inner and outer hinge pins, polished for smooth action.
Composite hubs with adjustable camber link position.
Custom locking kingpin screws.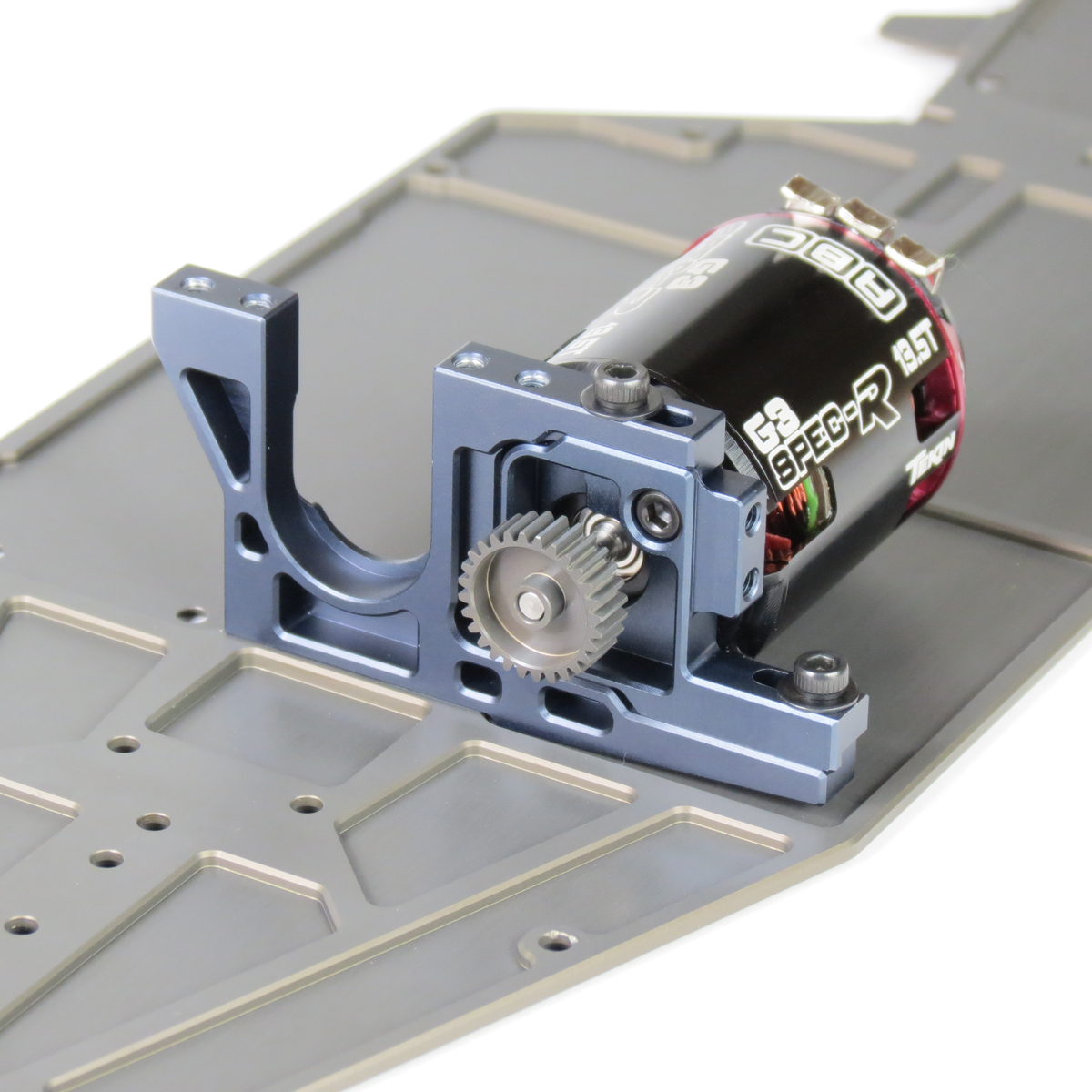 Motor Mount
2-piece CNC aluminum motor mount with precision dual clamping gear mesh adjustment.
Split center diff mount for easy maintenance.
Lightweight direct-to-diff mount design.
Uses standard 32 pitch pinion gears. 1/8th or 5mm bore, depending on motor used.
Includes integrated fan mount.
Other Features
High downforce wing with hole guides included.
Easily adjust anti-squat, rear toe, front arm angle, front arm sweep, roll center, toe, camber, wheelbase, Ackermann, bump steer, suspension geometry out of the box.
Full set of option parts available.
Extremely easy to work on with minimal screw count.
All metric hex hardware.
Specifications
Length: 393mm (without wing) up to 424mm (with wing).
Wheelbase: 283-294mm.
Width: 322-330mm.
Weight: ~1850-2025g depending upon the equipment used.
Diff Ratio: F/R – 10/40t, Center – 53t.
Battery tray dimensions: 96x47x26mm<./li>
Kit/RTR: Kit.
Yderligere udstyr og dele du har brug for:
2/3 kanals sender/modtager

1/10 ESC og motor system

540 str. 6,5-8,5T eller 540 str. 4 polet 4000-4600kv motor.

Høj moment styre servo

2s korte LiPo batteri (mindst 5000mAh)

1/10  Associated offset stadium truck OR Traxxas Slash SC offset wheels and tires (eller færdig monteret)

Pinion 32 pitch 15 tænder – 19 tænder

Maling til karrosseriet.
* See Resources/Info tab for specific recommendations.
Recommended Tools
Nut drivers 5.5mm (TKR1108) and 7.0mm (TKR1109).
Hex drivers 1.5mm (TKR1104), 2.0mm (TKR1105) and 2.5mm (TKR1106).
Hobby knife.
Needle-nose pliers.
Shock tool (TKR1115) OR adjustable (Crescent) wrench (for shock assembly).
4mm turnbuckle wrench (TKR1103) – 5.5/7.0 two-sided wrench (TKR1119).
3mm arm reamer (or #31 drill bit).