Maxx 4×4 RTR TQi Brushless TSM
DKK 4.599,00
Lillebror til den populære X-maxx
Yderligere information
| | |
| --- | --- |
| Vægt | 5 kg |
| Farve | Orange, Assorteret, Blå, Rød |
Kun kunder, der er logget ind og har købt denne vare, kan skrive en anmeldelse.
Maxx 4x4 RTR TQi Brushless TSM
Mød den nye MAXX
Traxxas X-Maxx ændrede for evigt ansigtet på RC monstertrucks. Dens radikale nye design, massiv størrelse, brutal styrke og uovertruffen kraft forvandlede X-Maxx til det legendariske. Der er virkelig intet andet lignende… indtil nu. Mød den helt nye 1/10 Traxxas Maxx. Maxx pakker mesterligt X-Maxx´s innovative design elementer i en lettere, mere kompakt, mere glubsk bæst, der er klar til at tage fart og styrke til nye niveauer af ekstrem intensitet. Lad det sjove begynde!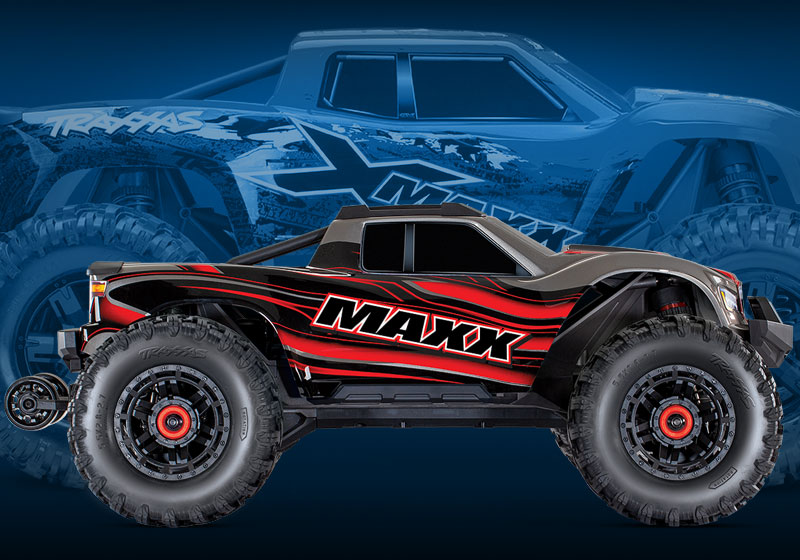 MAXX® OPLEVELSEN
Ekstrem kraft. Ekstrem holdbarhed. Ekstremt sjovt! Dette er det fundament, som Maxx Oplevelsen er bygget på. Med en ny Maxx-platform, der er mindre og lettere, tog Traxxas-ingeniører hastigheden til 96+ km/t, indstillede den til endnu højere ydelse og beholdte den rå styrke og holdbarhed. Maxx ændrer igen, hvordan vi ser på sjov og spænding med monster trucks.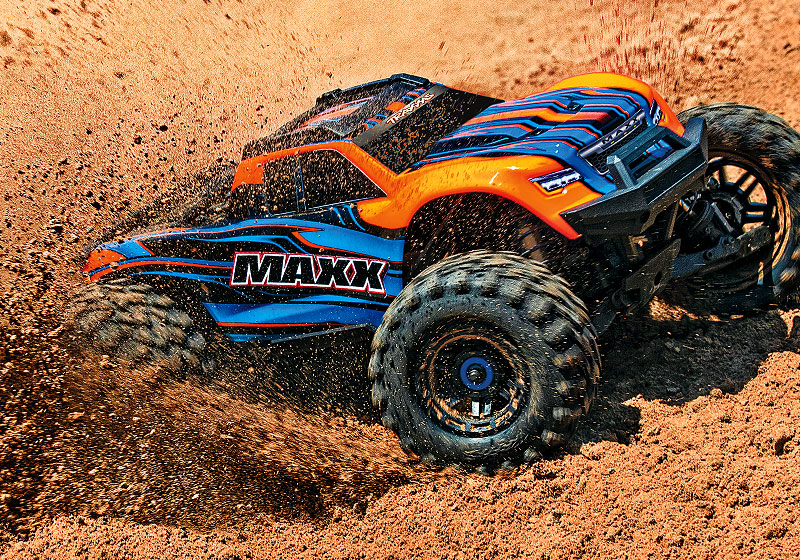 96+ km/t MAXX® MUSKLER
Traxxas Velineon børsteløs kraft rammer hårdt med massiv 4s-røvspark og ubesværet wheelies. Maxx føles som en ustoppelig naturkraft, da tophastigheder når frygtindgydende 96+ km/t. ** Avanceret 32-bit mikroprocessorstyring overvåger konstant output for effektiv, langvarig ydelse. Den højtydende 540XL-motor har en tyk 5 mm aksel, aluminium kølelegeme og en kraftig ventilator. Naturligvis er det hele fuldt beskyttet med Traxxas 'innovative vandtætning.
TRAXXAS STÆRK
Maxx er konstrueret til at modstå ekstrem straf og intens kørsel. Stødabsorberende ophængsarme opsuger stød uden problemer. De kraftige drivlinjekomponenter er blevet påvist i køretøjer, der er større og tungere end Maxx, så der er masser af styrke til overs. Maxx-chassiset absorberer og spreder slagkraft over hele strukturen. Kæmpe gevind-aluminium GT-Maxx støddæmper skaft med stor diameter styrer dæmpning af ophæng. Maxx inviterer dig til at udforske nye måder at køre hårdt og have det sjovt på!
Features:
VXL-4s™ Waterproof Electronic Speed Control

3S–4S LiPo compatible
Built-in cooling fan
Real-time telemetry via Traxxas Link™
Machined heat sinks
10-gauge silicone wire
Integrated protection circuits
LED status lights
Waterproof

Velineon® 540XL Brushless Motor

Long format brushless motor
4-pole 2400 kV
5mm output shaft
Aluminum heat sink
Cooling fan

55+ MPH out of the box using single 4S LiPo battery (sold separately)
60+ MPH with optional gearing and single 4S LiPo battery (sold separately)
Traxxas Stability Management™

Helps prevents spinouts and loss of control
Adjusts from off to 100% assistance from the transmitter

TQi™ 2.4GHz High Output Radio System

TQi™ 2.4GHz transmitter
Traxxas Link™ enabled
TQi 2.4GHz 5-channel micro receiver (#6533) with fail-safe security and integrated telemetry ports
Automatically stores and loads settings for up to 30 Traxxas Link-enabled models—just switch on and drive, "model selection" is not required
Multi-Function knob
Adjustable steering and throttle percentage (dual rates)
Adjustable steering and throttle sensitivity (exponential)
Adjustable steering and throttle end points
High 13ms frame rate and near-zero latency for responsive control
Telemetry-ready 5-channel micro receiver
Drivetrain

Full-time shaft-driven 4-wheel drive

Torque-Biasing

 Center Drive™ absorbs shocks and distributes power
17mm keyed wheel hex with 5mm nut
Sealed, silicone fluid-filled diffs with large module ring and pinion gears
Heavy-duty Cush Drive™
Extreme-duty telescoping driveshafts
Splined aluminum center driveshaft

Secure Motor Mounting System

Precise, fixed gear mesh adjustments
Motor retention separate from gear mesh
Full-length motor cradle

New Modular Composite Chassis

Modular chassis design interlocks with front and rear bulkheads
Absorbs and distributes impact energy
Easy to service and access components
Driveline is sealed in the chassis to keep out dirt and grit

Easy Battery Access

Battery is protected deep in the chassis
Battery hold-downs pivot for easy access
More secure than conventional retention systems

Clipless Body Mount System

Quick one-hand installation and removal
Uses pivoting rear latch mechanism
Eliminates body posts and clips
Reinforced for extra protection against tearing
Heavy-Duty Steering Bellcranks and Servo

Large-scale high-output steering servo

285oz-in of torque
0.18 sec transit speed

New mounting system to fully support case
Heavy-duty double-shear bellcranks

Suspension

Engineered to optimize suspension travel and steering angles
All critical suspension points have double shear strength
Steel pivot balls

C-hub

 and steering block geometry maximizes steering angle
Fixed, high-strength camber and toe links
Steel upper and lower tie bars
Full contact sealed bearings used throughout driveline

New GT-Maxx® Shocks

Machined aluminum threaded body
Extra-large bore and capacity
Large-diameter damper shaft
Lower seal cartridge with dual 

X-rings

Adjustable upper spring retainer
Plastic shock caps with pivot balls
Lower spring perches bolted on

Bumpers

Tough energy absorbing front and rear bumpers
Lower front and rear skids for impact and abrasion resistance
Integrated nerf bars for side impact resistance
Wheelie bar with integrated carry handle

Wheels/Tires

Tough 2.8" wheels with keyed 17mm hex receptor
Large 5.5" all-terrain dual-diameter tires
1-piece foam inserts
Pre-glued and ready for action
TSM™ rated
| | |
| --- | --- |
| Length: | 21.60 inches (549mm) |
| Front Track: | 14.50 inches (368mm) |
| Rear Track: | 14.50 inches (368mm) |
| Ground Clearance: | 1.92 inches (49mm) |
| Weight: | 9.7 lbs (4.4kg) |
| Height (ride): | 9.12 inches (232mm) |
| Wheelbase: | 12.96 inches (329mm) |
| Shock Length: | 4.89 inches (129.2mm) |
| Tire Diameter: | 5.51 inches (140mm) |
| Wheels Diameter: | 2.8 / 3.6 inches (71 / 91mm) |
| Speed Control: | Velineon VXL-4s |
| Motor (electric): | 540XL (2400 kV) |
| Transmission: | Single-Speed |
| Overall Drive Ratio: | 11.86 (24 / 50) |
| | |
| --- | --- |
| Differential Type: | Sealed, hardened steel bevel, limited slip |
| Gear Pitch: | Module 1.0 |
| Chassis Structure/Material: | Composite Modular Tub |
| Brake Type: | Electronic |
| Drive System: | Shaft-driven 4WD |
| Steering: | Double-shear bellcrank |
| Radio System: | TQi™ 2.4GHz Transmitter with TSM® receiver™ |
| Servo: | Torque: 285oz-in. |
| Top Speed: | 60+ MPH with 4S LiPo battery and optional gearing (sold separately) |
| Skill Level: | 4 |
| Battery Tray: | 162mm L x 45mm W x 43mm H |
| Required Batteries: | 4 "AA" (transmitter) |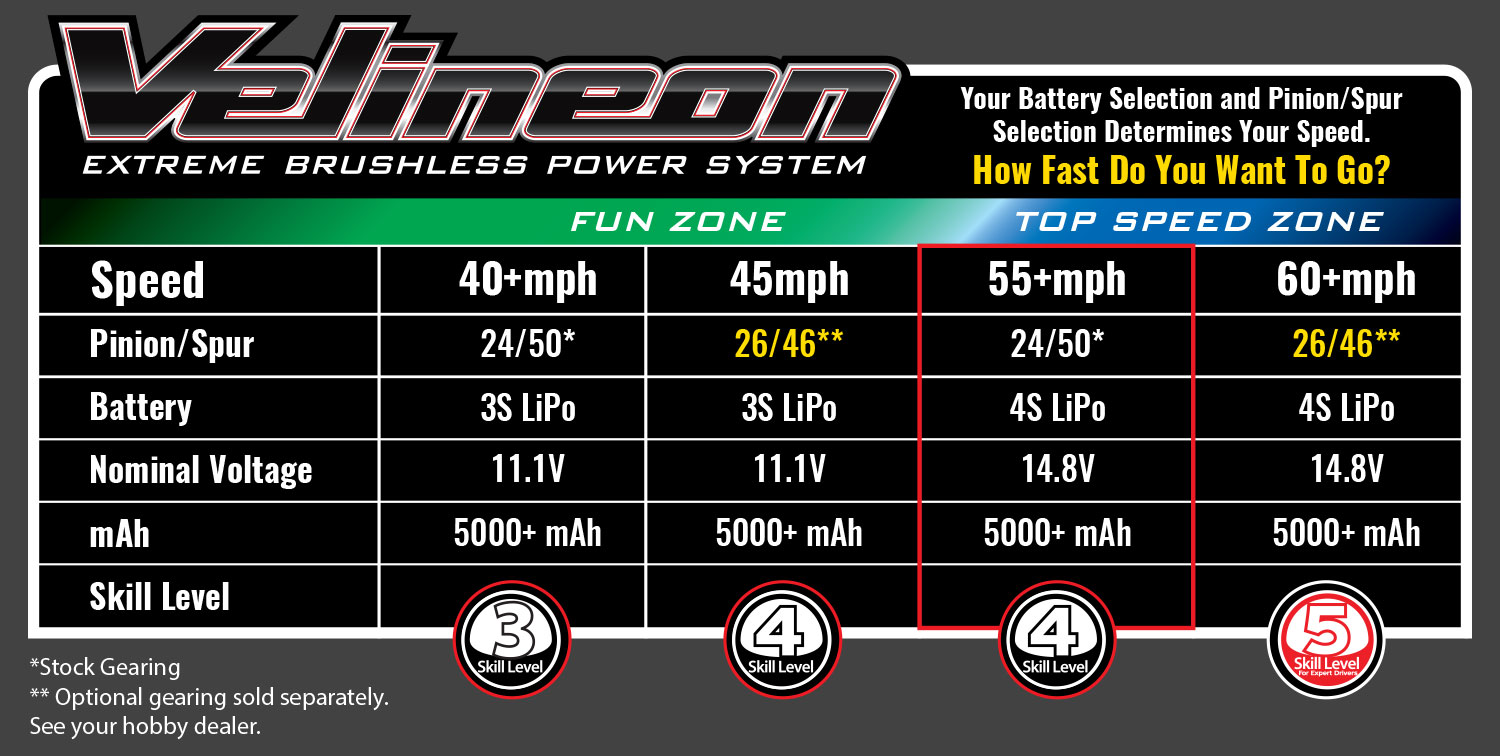 Hvad er der i kassen:
Maxx, Ready-To-Race® model med Traxxas 540XL brushless motor
VXL-4s vandtæt elektronisk hastighedskontrol med integreret telemetri
Hurtig start guide
TQi™ 2.4GHz radio system
Høj kvalitets vedligeholdelse værktøj
Hvad du har brug for:
LiPo Batteri: Traxxas anbefaler et 4-cellers 14,8V Power Cell LiPo-batteri for maksimal ydeevne. Et 3-cellers 11,1 V LiPo-batteri giver køretøjet reduceret ydelse. NiMH-batterier understøttes ikke
LiPo Balance Lader med iD™: Traxxas EZ-Peak Live 4s-kompatibel oplader anbefales til let og hurtig opladning (model #2971GX)
AA Alkaline Batterier: 4 AA alkaline batterier til senderen.
Vil du købe batterier og lader til, så kontakt os, og vi finder den bedste pris!